My online buddies Unix-Jedi and Dixie have a new addition to their family, Evie.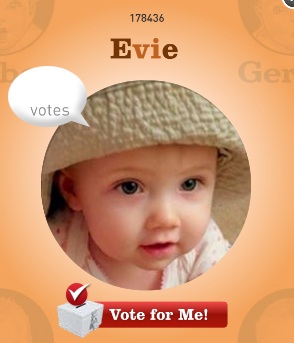 Gerber
, the baby-food people, are running a contest called '
The Gerber Generation
', looking for a baby or babies to be used in advertising. The winners receive a substantial scholarship, which would obviously be very helpful to a young couple. UJ and Dixie have entered Evie in the competition, and now they're dependent on visitors to the site to vote for her.
If you feel so inclined, would you please
click on this link and vote for Evie
? It'll take you straight to her page on the competition Web site. To vote, you'll be asked to provide an e-mail address, and a confirmation e-mail will be sent to you, to which you'll have to reply in order to have your vote registered. That's a bit of a pain, I know, but it's for my friends, and in a good cause.
You can vote once per day, so please go back and vote for Evie again, as many days as you can remember to do so. I hope many of my readers will help my friends. Thanks in advance to everyone who does!
(Isn't Evie sweet?)
Peter